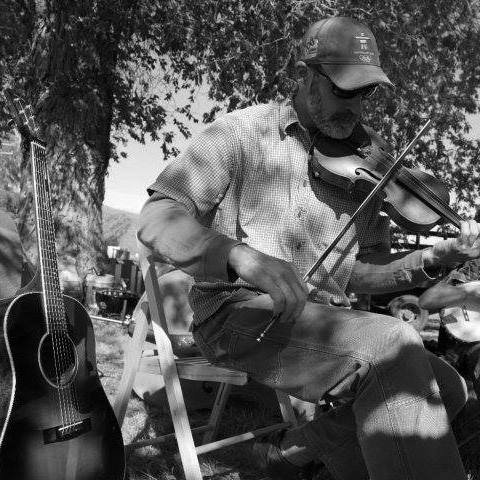 Violin / Mandolin / Guitars
It all started around 1970 when my sister got a guitar. I used to steal it from her room and try and play it. It wasn't until a rodeo accident in 1984 laid me up for ten months. While recovering, I found that old guitar right where I left it, in my sister's closet. That 8 month period was the true start of my learning how to play the guitar. That old guitar came to college with me, and it was there that I began to develop a love of playing music.
The fiddle came into view around 1988 when I was raft guiding down in North Caroline. I remember driving up into "the hills", deep in heart of Appalachia to listen to the locals jam. There was this old tobacco farmer who played the fiddle – stereotypical deep south local, overalls, tobacco-stained fingers and all. His fiddle playing just memorized me. This is where I gained an appreciation for the power of music to connect people.
Fast forward to 2007 when I was running sound for the Cashmere Community Coffee House bluegrass shows. A pretty girl walked up to me and said; "I hear you play the fiddle, do you want to play in my band?" It doesn't get much better than that.
When not performing with Eden, or adventuring on his motorcycle or mountain bike... or galavanting the earth for the love of good backcountry skiing, John can be found in just about every bluegrass circle or band in or out of the area. O! And true to his name, he is the weather man at Stevens Pass Ski & Snowboard Resort.